Offering or discussing financial services with clients is highly regulated in most countries. This applies in particular to client meetings abroad in the on-site location of the client. Today, most financial institutions maintain these regulatory restrictions as text-based handbooks or country manuals, regularly updated by legal and compliance. When planning a trip with client interaction, relationship managers must review regulatory restrictions and possibly consult with legal & compliance to ensure the exchange happens in a compliant scenario. When applying for a business trip, the relationship manager needs to be familiar with the country rules and, in such a case, has to go through cross-border training and study the lengthy country manual of the country. These measurements can help mitigate the risk, but these measurements might come to their limits in more complex constellations.
Conducting this activity is generally manual without an automatic rule check before sending supervisors a travel approval request. Supervisors, therefore, spend time reviewing travel approvals that potentially are not compliant with the financial institutions country manuals, leading to potential compliance breaches.
The Apiax Cross-border APIs allow financial institutions to integrate rules in a travel management tool, minimising maintenance if regulations change. Only the compliant trips can be processed and approved by using detailed travel information, type and location of the client, and the meeting country.
This guide explains how to integrate cross-border services (behavioural) rules and empower your users to check for dos and don'ts in a specific cross-border context.
Find below how to access the relevant cross-border rules, inspect the API to retrieve country-specific values, retrieve binary results on activities and additional information such as remarks and restrictions, and apply the best practice on where and how to bring the rules into your CRM's user interface.
Pre-requirements
Before starting, ensure that you have:
A SaaS subscription to the Apiax API (optional subscription to the platform)
An active subscription for the relevant digital compliance rules (content)
A user account with access rights
A ready to use API authentication and access
A capable customer-facing solution to integrate
For more information, see Apiax initial account setup.


Business cases and studies
Apiax offers a series of business cases and studies to gain further insights into the business benefits of switching to embedded compliance rather than following traditional compliance approaches.
Refer to the use cases webpage on apiax.com or contact Apiax for more information and an overview of how you can move your business forward with ready-to-use solutions for embedded compliance.
Introduction
This integration guide provides step-by-step instructions of a business case, taking you through the process of embedding compliance into your environment, team or process. Make sure to follow these steps with your specific case and situation in mind. Adopt and extend rules, attributes and API requests where necessary.
Apiax offers test and live API keys and rule governance and versioning functions for you to test and validate changes before applying them.
Example to get started
Anita works as a Relationship Manager for Financial Institution Ltd. in Switzerland. She has just travelled to Singapore, and a prospective client located in Spain approaches her to discuss a discretionary mandate as soon as possible.
This example illustrates a complex three-country situation but is only one case of Anita's work. Typical other scenarios are relationship managers planning to visit a client and socialise, discuss the past performance of the client's portfolio, offer new services such as financing or custody and payment services. The Apiax digital compliance rules can cover all those scenarios.
Objective: Anita can use the in-house travel tool, enter the exact scenario, and understand the permitted and prohibited actions in this specific cross-border case based on the Apiax cross-border rules. She can understand the detailed requirements and potential constraints before asking her manager for approval and quickly get back to the client.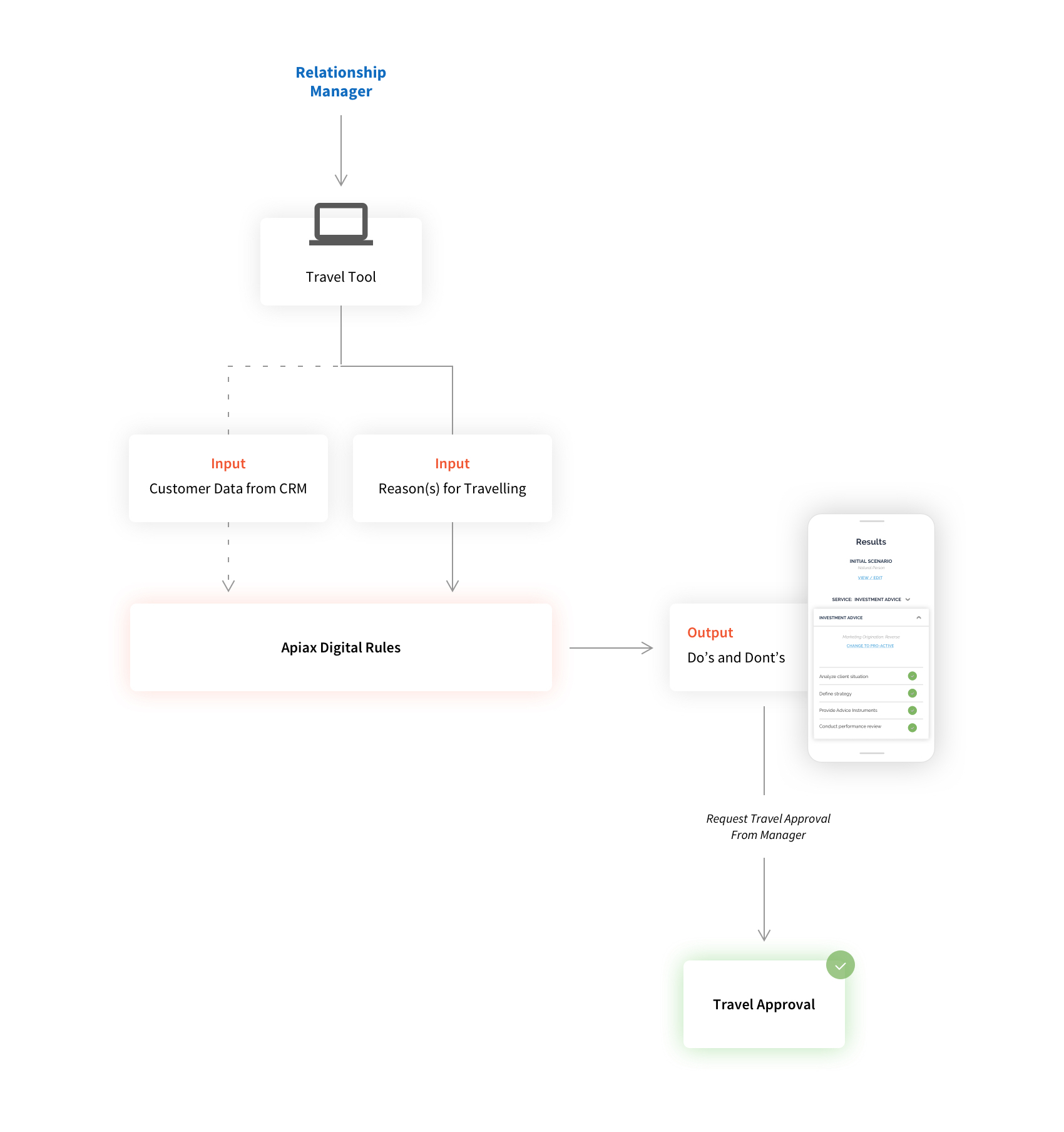 === * DO NOT DELETE! Guide Preview Button Placeholder * ===